Product Description
PG Instruments fully adjustable Micron-Mist Nebuliser for easy analysis of a wide variety of sample matrices
The Micron-Mist Fully Adjustable nebuliser is designed by PG Instruments Limited for their AA500 Flame Atomic Absorption Spectrometer. The nebulizer can also be retro-fitted to most other makes of Atomic Absorption Spectrometers. The nebuliser produces an ultra-fine mist thanks to the unique design of the nebuliser that acts like a Resonating Micro-Membrane.
The nebuliser is Fully Inert with an Adjustable uptake rate  of between 2 and 6ml/min. This Nebuliser offers Excellent RSD's typically <1.0% Enhanced sensitivity. The Fully Adjustable Nebuliser can be used on our AA500 flame and the AA500 combined flame and furnace systems as well as the AA990 flame system. A version is available with Pt/Ir capillary for analysis of HF solutions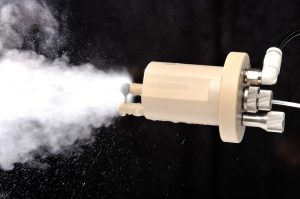 The Nebuliser is excellent for the analysis of samples in MANY matrices such as:
Aqueous – Waters, Environmental samples, Sea water,
Organics – Oils, Petroleum, Diesel Fuels, Lubricating Oils, Cooking Oils, MIBK Extracts to name but  few.
Strong Acidic Solutions.
Strong Alkaline Solutions.
Solutions with a high dissolved solid content.